Imagine going to the doctor, and being told that you need to change something in your life to avoid severe illness or death. You would make that change, wouldn't you? Sometimes it takes something drastic to wake you up to recognize that you need to make a change in what you're doing.
WAKE-UP CALL
I think that it's great that people are taking better care of themselves, because I understand that retirement is a lot of fun! Staying healthy so that you can enjoy retirement is great. Now here's the wake-up call... having a healthy retirement account is just as important as having a healthy body. And the only way to build a healthy retirement account is to start as soon as you start working. The longer you wait to get started, the harder it will be. You want to be sitting in that chair on the beach!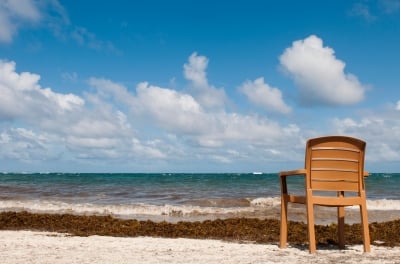 HOW MUCH WILL YOU NEED?
You have to determine what a healthy retirement account looks like to you. There are lots of retirement calculators on line for you to try. Many financial planners suggest that you live off of the interest from your investments so that you will never outlive the principal. You want to live a long time, but of course none of us knows how long that will be.
If your investments earn 5% per year, then every $100,000 in your account at retirement will spin off $5,000 in income. So if you will need $50,000 per year to live comfortably, then a healthy retirement account for you will be $1,000,000.
GETTING TO $1 MILLION
If you earn an average of 8% on your savings, you can get to $1,000,000 at age 65. But the amount you save for your healthy retirement depends on when you start saving. If you are making $50,000 per year, then you can use this chart as a guideline
| | | |
| --- | --- | --- |
| Age you start saving | Savings as a percent of $50,000 | Monthly amount |
| 25 | 7% | $286 |
| 35 | 16% | $671 |
| 45 | 41% | $1,698 |
EXCUSES, EXCUSES
It's easy to come up with an excuse about why you can't save for your future retirement. Do any of these sound familiar to you?
I just got out of school
I have student loans

I have a car payment

I have a girlfriend
I just got married
We are buying a house

We have to pay off the wedding
We have young children
Daycare/school expenses

Diapers

Toys/sports
We have kids in college
There is always an excuse not to save, so NOW is always the best time to start toward your healthy retirement.
LET YOUR COMPANY HELP YOU SAVE
Most companies offer some type of savings plan – 401(k) or 403(b), for example. Payroll deductions are by far the most convenient way to build a healthy retirement account.
1. You don't have to think about transferring money to savings
2. You will get a tax deduction on every deposit; some plans offer a post-tax (Roth) option.
3. There is nothing you have to report differently on your income tax return
4. Money in your account grows tax deferred; in some cases even tax free!
5. Your company may offer a matching contribution which will help you meet your goals even more quickly.
A healthy retirement is more than being physically healthy. Financial health will help you maintain an active, stress-free lifestyle once you are in retirement. Don't ignore the warning signs. Get started with your company retirement plan, or start saving on your own. If you want help setting up a retirement plan for your company, the experts here at Benefit Resources are ready to help. Click here to request a free consultation to determine what might be best for you so that you have a healthy retirement.
Image courtesy of artur84 / FreeDigitalPhotos.net