A complete 401k Companies List - You'll want to select a company for each section below. If you need recommendations for any of the providers listed below, we can help with that too.
When you searched for the term "401k Companies List" you probably meant, companies that can help you set up a 401k, and you wanted a list of companies that could do that for you, right? The short answer is that you found exactly what you were looking for. Although the actual company you are looking for is called a Third Party Administrator (or TPA) but how would you know that? The good news is that we are a TPA, and your search was more accurate that you know.
Retirement plans are a team sport, meaning it will take more than just one company to help you get a plan set up, but you'll start with a TPA. If you're ready to start a retirement plan we want to help you understand the various retirement plan providers so you can keep the players straight and understand their roles. We recommend that companies look for providers who are an expert in their respective role, and who communicate openly with the other plan providers. This will create a well-run plan and allow peace of mind for the company sponsoring the plan.
RETIREMENT PLAN COMPANIES LIST - YOU'LL NEED:
1.) A PLAN SPONSOR (that's you or your client if you are a financial advisor)

The company putting together the plan is considered the Plan Sponsor. When starting a retirement plan everything with respect to the design of the plan should revolve around what the Plan Sponsor needs are. Ultimately the day-to-day responsibility for the Plan lies with the sponsor: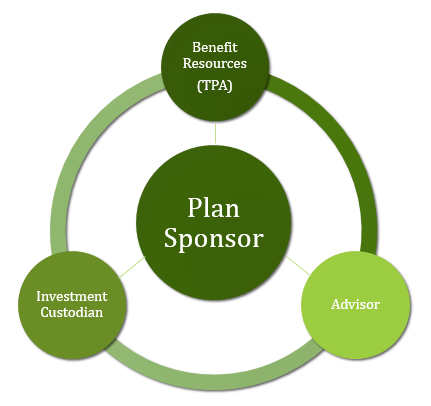 Enroll eligible employees

Deposit contributions to the plan

Authorize of benefit payments

Confirm compliance

Submit annual government filings
Plan Sponsors rely on the assistance of professionals to help them fulfill their responsibilities. Those various providers are described below.
2.) A FINANCIAL ADVISOR
The retirement financial advisor is a person or company that helps you select the right investment mix and provider for your plan. A responsible advisor will perform some of the following functions:
Prepare an Investment Policy Statement

Help select the investments available within the plan

Monitor the investments regularly

Meet with the Plan investment committee at least once per year
3.) AN INVESTMENT CUSTODIAN (like Charles Schwab, Prudential or Merrill Lynch)

Investment Custodians hold the money for the Plan and its participants. Custodians perform a variety of functions for a Plan including some or all of the following:
Post investment trades

Allocate dividends and fees

Provide recordkeeping services

Maintaining a website for Plan participants to get information about their account

Prepare statements for the Plan and/or the participants
4.) A TPA (Third Party Administrator) - That's what we do, and is actually where you'll start.

An independent TPA assists the Plan sponsor in meeting their responsibilities for setting up and administering the plan. We will design the plan around your needs, set it up and maintain it. Just like a good CPA helps you follow tax law, a good TPA helps you follow ERISA laws. The TPA reviews activity during the year to confirm that the Plan Sponsor followed the rules and regulations including:
Perform testing of the plan to confirm that all compliance rules are met

Prepare required government filings and reports to be filed

Answer questions from the Plan Sponsor throughout the year
We are the premier online 401k company - and we service all kinds of retirement plans. Every retirement plan needs a TPA, we are the ones who help you set up and maintain your plan. Get started with a free consultation today.
5.) A CPA
Plans with more than 100 eligible Participants must have the Plan's financial statements audited by a CPA each year. Auditors have very specific guidelines, and they provide a valuable service to the Plan Sponsor to confirm eligibility, payroll deposits, posting details and the like. They confirm that the correct data is being provided to the TPA for testing purposes, that the investments are being reported accurately on the financial statements and reports being provided to the government.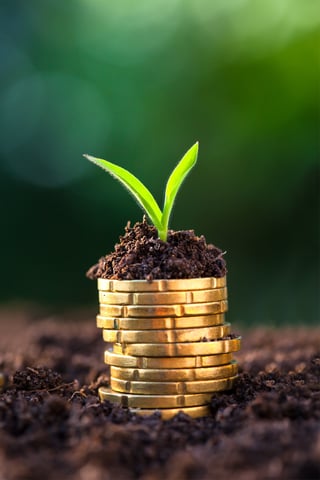 SUMMARY - You'll need several 401k Companies, but if you start with us, we'll help you with the rest.



If you are still wondering how to start a 401k, give us a call at 916.922.3200 and we will get you on your way. Having multiple providers for your Plan, like the ones listed above, brings strength in each specialty to provide you with the best possible outcome. Providers who bundle services may have a weak link that isn't identified until you are already deep into the process – then it may be difficult or impossible to swap out that weak player.
TAKE ACTION
Your retirement future is at stake! We would be proud to help walk you through the process of starting a retirement plan, and help you find the right providers for your needs. Click here to have one of our pension consultants contact you!
Also Read: Online 401k Company - Retirement Set up and Administration
You might also like:
The Complete Guide to Choosing, Setting Up & Maintaining A Company Retirement Plan
Best Retirement Plans for Small Business Owners
What's the Best Pension Plan for you?